Judith's Jottings » Blog Home Page
What to do with that box of old family photos? - 10th December 2019
Everyone has an old box of photos tucked away somewhere. Quite often they are black and white prints that represent the additions to family and the passing of the years. 21st birthday celebrations, wedding photos, christening photos, babies' first steps. Quite possibly your first steps! Back in our past, photography was more of an occasion, less disposable.

Maybe you have inherited or collected such a box? Now you are decluttering though and are torn as to what to do with the photos?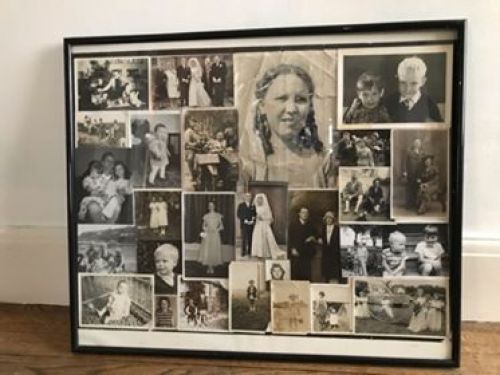 Muddled old photos in a box are somehow wasted, aren't they?
How often might you pull out that box and actually look at that photo of your grandparents' wedding day, or the day when aged three you gave great aunt Sarah the run around?

Client Helen Partridge is a professional photographer and also a generally creative person. She has not allowed her family photos to gather dust or be hidden away. Instead she has selected key photos to make a framed collage to hang on the wall.

Helen recently did the Declutter Toolkit refresher with me. When another group member posted about all her old photos and what could she do with them, Helen told us that she had made photo collages with some of hers.


Here are Helen's photo-collage making tips as shared to the group
"It takes a bit of planning but really all I did was found an old frame (I had a poster in) and either decide on a white, black, or brown, paper background whichever is most effective. Then choose my favourite pics and select same style, in this case all old black and white. I also try and tell a story, rather than just stick them in randomly.
I arrange it all out on a table first. Then take a photo on my phone, then put the background in place. Do your best to replicate according to your photo of the layout. Stick it down with photo tape* rather than cellotape which will prob rip the photo later.

Another way you could do it is to buy a mount that's already been cut for you in the size of the photos (framing centre shop does that) and then all you have to do is secure your images to the mount."


(Note: photo tape is the same tape as used by picture framers to seal backs of framed items).
I'm sure you'll agree that Helen's photo collage looks amazing? I hope you consider having a go yourself.

I love this idea because it will prompt you to go through the box of photos to choose the best and most evocative images. It also means that everyone will get to see them and the collage is a potential talking point for family and friends. Far better than leaving the pics to languish in layers of dust! You could even choose a group of photos and use them in a collage for other family members.

Christmas is coming, wouldn't this make a lovely personalised gift? Especially for the older members of the family.

Having completed your collage or collages you might even decide to declutter those photos that didn't make the grade! At the very least, you won't need such a large box in which to store the remainder.

Helen is based in Northampton. Her photography business is 'Live by the Lens' and I highly recommend her services. She is responsible for my current profile photos for which I have had countless compliments. You can find Helen's photos on her FB page.

If you want help in sorting out your clutter then please send me a message.
Keywords: photos, organise, emotions
Click here to go back to the blog index