Judith's Jottings » Blog Home Page
Shop for clothing - NOT clutter - 20th July 2022
Most often when clutter is thought of or mentioned it's about clearing it out, getting rid of it. How would it be if you also took positive steps to avoid creating it in the first place? What I chose to wear for my eldest niece's wedding was most definitely guided by a desire to not clutter up my wardrobe!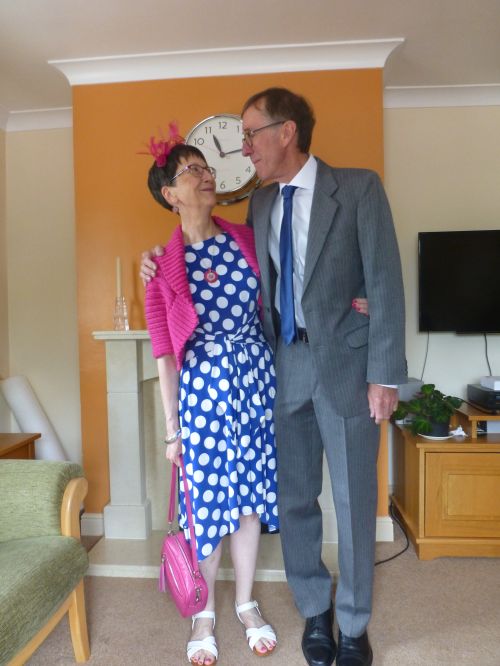 My niece got engaged in August 2021 and the wedding date was set for 2nd July 2022. Plenty of time for me to work out what I might wear - in theory.
I knew I didn't want to buy anything that really shouted "WEDDING" because that would only get worn once and would likely end up as expensive clutter.
Fortunately I had a dress in my wardrobe that I'd bought just before Covid landed, I'd not worn it because like everyone else I'd had nowhere to go! I tried it on and was reminded that yes, it suited me, and yes, the style of it was appropriate for a summer wedding. From all angles I was ahead of the game. No need to buy a new dress and I was confident that this dress was one I would wear again during the summer months for other social occasions.
I also knew what colour accessories I would like and I knew that I wanted relatively flat and comfortable footwear because I object to wobbling around in high heels and getting blisters. Anyway, flat footwear that was comfortable would be footwear I would wear again.
I admit that finding the sandals took AGES but that was really more about my tricky feet than anything else. However, I paid just over £60 for a pair of white, flat, strappy sandals that I wore for the entire day and danced in without getting sore feet. Now, those might sound like expensive sandals and of course I could have got a cheaper pair. However, I know I will wear these over and over again as they look lovely and are comfortable. Being white they will go with a lot of summer clothes. Let's say I wear them 20 times, that's only £3 per wear. If instead I'd bought a pair that cost just £15 but they were uncomfortable and not likely to go with any other items in my wardrobe that's £15 per wear PLUS more clutter - or a trip to the charity shop.
I knitted a bolero in the end as I couldn't find one in the right shade of pink. The yarn cost me £30 because I was fussy about the colour, but again, I know I can wear it with other dresses and even jeans and T-shirts on occasion.

I did push the boat out with a fascinator and that cost me £18. It's probably the one item I may never wear again. But as I had specially written a poem for the happy couple and would be reading it in church, I wanted to look the part. The shop where I bought the fascinator also had handbags in most shades, except the shocking pink I wanted! The owner of the shop said she would look at her supplier websites and order in anything she thought might work for me. A week before the wedding (EEEEEK) she called to say she had taken delivery of a satin clutch bag she thought was the perfect colour for me.

This woman had gone to a lot of trouble on my behalf, but I admit my heart sank when she rang because I am just not a satin bag kind of a woman. Nor did I think that something so fancy would go with the rest of my outfit. Of course my other thought was that if I was obliged to buy this bag I would probably never use it again and as such it would be an expensive item of clutter. The accessory shop was in a neigbouring town so I decided to have a look at the few other boutiques there before I went to look at this satin bag. I wanted to be sure there was no other option although I had scoured various other shops in our area quite early on!

I struck lucky. The first tiny boutique I went into had the perfect bag! Just the right colour - I had taken my jewellery and a scrap of yarn from my bolero to be sure it was a match. It was leather, a reasonable size without being huge and I just knew immediately that I would feel comfortable with it and that it would be used a lot during the summer. Cost per use will be minimal on this as I'm sure it will last for many
years.
I hope that the story of how I put together my wedding outfit inspires you to think differently when you go clothes shopping!
If you already have way too many clothes but don't know how to declutter them or just feel stuck thinking about it, then why not get in touch? I've worked with quite a few clients who had this exact same challenge. Just call me on 07850 580802 or email me here .
Keywords: clothing,
Click here to go back to the blog index